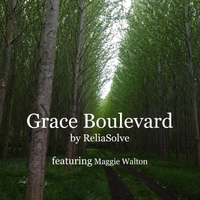 "Grace Boulevard" is a song that was inspired by time spent on the board of directors for Pharaoh's Daughter, a 501(c)(3) non-profit organization that watches infants born to incarcerated women until they are released and then provides life skills, parenting skills and job skills training.
The song aims to capture both the challenges facing Mom and Baby during this traumatic period and the grace and redemption available to them during and afterwards.
Maggie Walton brings her beautiful voice to the song. Curtis Stith adds his talents, writing and arranging the instrument parts and playing most of them.
You can listen to the song by clicking on the image above or on this link.  You can also listen on Spotify or other streaming services (search for ReliaSolve). If you want to support Pharaoh's Daughter, you can do so directly on their site.  If you want to download a copy of the song to play later, you can purchase a copy at the link above.
Here are the lyrics:
I met you in room fifty-three.
Your mom just named you Emily.
They cuffed the hands that held you tight
And I'll be watching you tonight.
Some find it hard to see your worth;
They can't see past your humble birth
But from down here upon my knees
I can glimpse what Jesus sees.
I am not here to take her place
I'll take your hand and make a space
We'll live together here on grace…  Boulevard
It's not like you hoped that it would be
When you gave birth to Emily.
Not home from Wake Med hospital
but to Bragg Street Correctional.
You must feel adrift and all alone.
Your choices chill you to the bone.
But in the meantime you can hold
Her picture in the pink quilt's fold.
I am not here to take your place
I'll take your hand and make a space
We'll live together here on grace…  Boulevard
When you get out, come here instead.
We'll learn lessons for the road ahead
And then one day we'll reminisce
About the good that came of this.
I am not here to take your place
We'll all join hands and in this space
We'll live together here on grace…  Boulevard